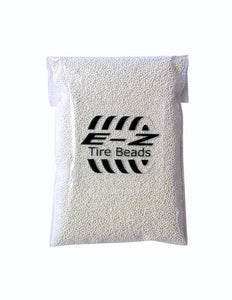 E-Z Tire Beads - 1 Bag of 18 Ounces - Premium Ceramic Dynamic Balancing Beads
One Bag of 18 (eighteen) Ounces. Use these premium ceramic tire beads for trucks, motorhomes, trailers, motorcycles, and 4x4 vehicles.
These durable, re-usable, environmentally friendly ceramic beads eliminate the need for unsightly spoke or wheel weights that can fall off, greatly extend the life of tires, and prevent cupping. They dynamically re-balance tires during every drive to provide a smooth ride all the time. Installation is easy by either adding the beads during the tire-mounting process or using the valve core application kit sold separately.